Since 1902, Milcor has been providing the building products industry with quality items. Milcor offers a wide array of access products, including top-of-the-line roof access hatches. The ability to produce custom products to accommodate building owners and architects allows Milcor to be a leader in the industry.
Overall Product Benefits
Easy, complete and unobstructed opening, superior design placement of hold-open arms and torsion bars or coils.
Extruded EPDM seals and secure interior and exterior latches provide a reliable barrier to weather and drafts.
Material choices include galvanized steel, aluminium, and stainless steel. Galvanized options are available powder-coated or painted.
Hatch covers are insulated for thermal efficiency.
High load capacity, 40–70 psf.
Available in a complete selection of single and double leaf configurations.
Custom fits and modifications are available.
Motorized opening is available with remote 3-position selector switches.
---
M-1 Single Leaf Hatch
Material: 14 gauge galvanized steel cover and Curb
Finish: Galvanized Steel: White Powder Coat
Cover: covers open easily to 90 degrees. 14 gauge galvanized steel exterior with 22 gauge galvanized steel liner bonded to core of 1" rigid styrofoam insulation.
Curb: 14 gauge galvanized steel with a 12" high curb, integral counterflashing, 3-1/2" wide mounting flanges with pre-drilled holes and 1" exterior fiberboard insulation
Gasket: Extruded EPDM rubber gasket adhered to cover
Hinges: Integrated Pintle Hinge
Lift Assist: Cover operation is assisted by Gas Spring
Latches: Slam latch with interior and exterior handles and padlock hasps.
Hardware: All hardware is zinc plated (stainless steel hardware optional)
Load Capacity: 70 psf
Equipment Access Double-Leaf
Material: RB: 14 gauge galvanized steel cover and curb. RC: .090 Aluminum cover and 14 gauge galvanized steel curb. RD: .090 Aluminum cover and curb
Finish: Galvanized Steel: Cool White Water Based Enamel Paint. Aluminum: Mill Finish
Cover: covers open easily to 90 degrees. RB: High-strength composite panels with 14 gauge galvanized steel exterior with 22 gauge galvanized steel liner with 1" fiberglass insulation. RC & RD: Mill finish .090 aluminum exterior with .063 aluminum liner with 1" fiberglass insulation.
Curb: RB & RC: 14 gauge galvanized steel with a 12" high curb, integral counterflashing, 3-1/2" wide mounting flanges with pre-drilled holes and 1" exterior fiberboard insulation.
RD: Mill finish.090 aluminum with a 12" high curb, integral counterflashing, 3-1/2" wide mounting flanges with pre-drilled holes and 1" exterior fiberboard insulation
Gasket: Extruded EPDM rubber gasket adhered to cover
Hinges: Steel Pintle Hinge
Lift Assist: Cover operation is assisted by enclosed heavy-duty Torsion Coil Spring
Latches: Two-point slam latch system for tight, secure closure with interior and exterior handles and padlock hasps.
Hardware: All hardware is zinc plated (stainless steel hardware optional)
Load Capacity: 40 psf
Saf-T-Rail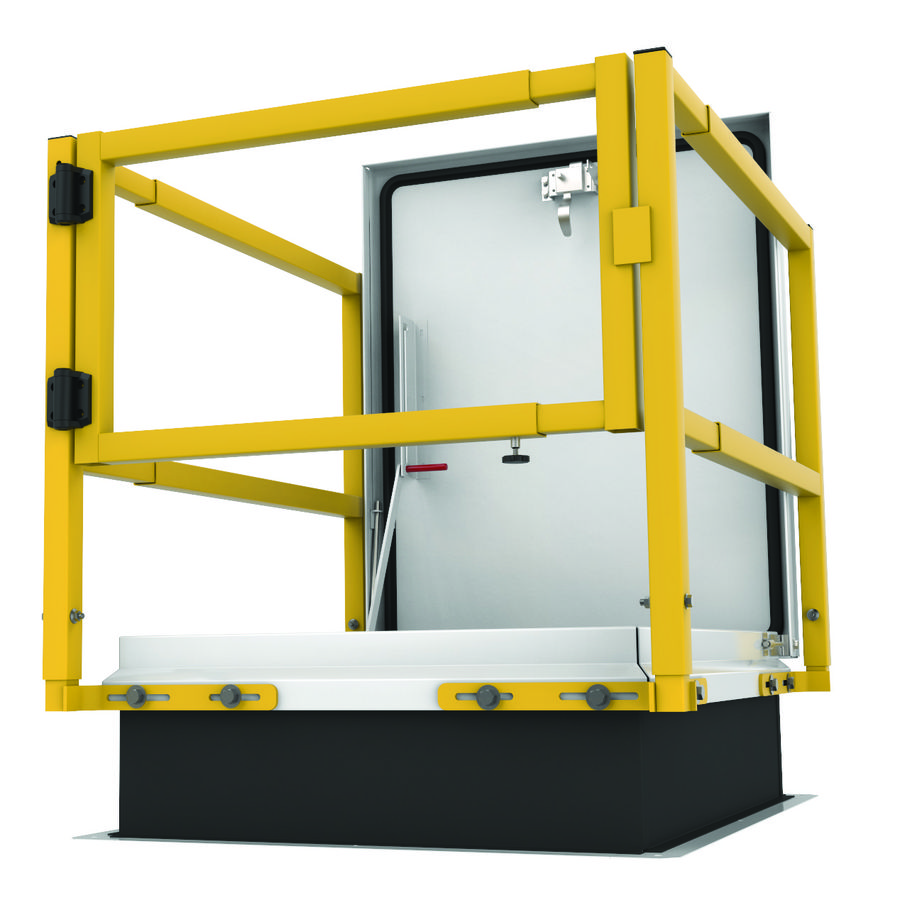 • Easily installs in minutes with non-penetrating attachments using standard tools
• Telescoping Rails that fit hatch sizes 30" x 30" to 48" x 54"
• Installs on existing hatches with cap flashings from ANY manufacturer
• Durable/Sturdy Metal Fabrication
• Durable safety yellow powder coat to withstand the elements
• Structural steel square tubing
• 5 year warranty
• Meets OSHA fall protection standards 29 CFR 1910.23 and 1926.502 guarding for opening requirements and supports 200 lbs force
• Posts, top rail, mid-rails & gate made of structural steel square tubing
• Powder coated safety yellow rails
Safety Rail System
Durable/Sturdy Metal Fabrication
Durable powder coat finish to withstand the elements
Fully Assembled, no field fabrication required
5 year Warranty
Chained and Gated options both come in all of our standard sized single leaf hatches (36" x 30" , 36" x 36" , 48" x 48" , 30" x 54" , and 30" x 96")
Other sizes available upon request
Meets OSHA fall protection standards 29 CFR 1910.23 and 1926.502 guarding for opening requirements and supports 200 lbs force
Posts, top rail, & mid rails- fully welded 1.5" x 1.5"x .083" structural steel square tubing
Mounting brackets – Fully welded to curb
2/0 steel chain – poly coat yellow, quick spring snap connection
Powder coated safety yellow rails
Optional spring hinged Gate
Upright Safety Bar
The Milcor Upright Safety Bar is designed to assist in the safe passage when exiting and entering the roof hatch. A heavy- duty, hinged steel mechanism allows the upward and downward movement of the bright yellow safety bar.
No need to attach bar to center of ladder rungs. Milcor's Upright Safety Bar has been designed to provide the safest way to exit and enter a roof hatch without restiricting the opening or footing on the top rungs of the ladder.
Simple and safe lift-and-lock into place movement
Side location for safer and more convenient passage
Automatically locks when fully extended
Shipped as a separate unit. Also, available assembled to roof hatch
Designed for hatches 4-foot and smaller on the ladder side
Designed to provide approximately 42" height above ladder
Energy Efficient Series
Material: M:14 gauge galvanized steel cover and Curb. RD:.090 Aluminum Cover and Curb
Finish: Galvanized Steel: Cool White Water Based Enamel Paint. Aluminum: Mill Finish
Cover: covers open easily to 90 degrees. M: 14 gauge galvanized steel exterior with 22 gauge galvanized steel liner with 2" Polyisocyanurate insulation. RD: Mill finish .090 aluminum exterior with .063 aluminum liner with 2" Polyisocyanurate insulation
Curb: M: 14 gauge galvanized steel exterior with 22 gauge galvanized steel liner, a 12" high curb, integral counterflashing, 3-1/2" wide mounting flanges with pre-drilled holes and 2" Polyisocyanurate insulation. RD: Mill finish .090 aluminum exterior with .063 aluminum liner, a 12" high curb, integral counterflashing, 3-1/2" wide mounting flanges with pre-drilled holes and 2" Polyisocyanurate insulation
Gasket: Extruded EPDM rubber gasket adhered to cover
Hinges: Steel Pintle Hinge
Lift Assist: Cover operation is assisted by enclosed heavy-duty Torsion Coil Spring
Latches: Slam latch with interior and exterior handles and padlock hasps.
Hardware: All hardware is zinc plated (stainless steel hardware optional)
Load Capacity: 70 psf